Lasers for skin diseases: highly successful laser course in Szeged
2. February 2018.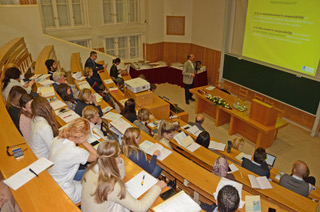 The European Society for Lasers and Energy based devices with the cooperation of the University of Szeged Dermatology and Allergology Clinic held a Hands-on Laser and EBD teaching course on the 26th and 27th January, after the successful courses held in Geneva and Florence.
During the two day course three theoretical sessions followed by hands-on sessions and finally a case presentation and discussion panel were held by the most well known lecturers, which helped the participants improve their knowledge.
Apart from the Hungarian participants, dermatologists from Egypt, Saudi Arabia, Iraq, Canada and America participated also.
The theoretical and hands-on sessions were held by world-renowed preceptors, including the ESLD president Hans-Joachim Laubach (Switzerland), the ESLD vice-president Ashraf Badawi (Canada), the ESLD founding member Leonardo Marini (Italy) and executive board member Paolo Bonan (Italy). The Hungarian laser preceptors were represented by Gabor Varju.
The preceptorship programme was sponsored by the worlds leading companies in the field of lasers and EBDs, such as Fotona, DEKA, Deleo and Chungwoo.
The main theoretical topics covered were laser tissue interaction, laser safety, laser hair removal, photothermolysis, cryolipolysis and microneedling radiofrequency rejuvenation.
During the hands-on sessions the participants had the chance to treat patients with atrophic/hypertrophic scars, leg veins, solar lentigines, and try tattoo, hair removal, rejuvenation techniques and last but not least non-invasive cryolipolysis.
Professor Kemeny was awarded an honorary ESLD membership, and all the participants were awarded a certificate of participation at the end of the course.