Background and biological treatment of psoriasis
Psoriasis Preceptorship Programme
24-25th, May 2018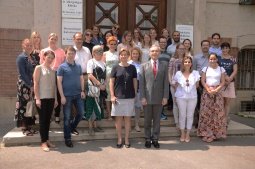 Psoriasis Preceptorship Programme was organized on the second time at the Department of Dermatology and Allergology (University of Szeged) between 24th and 25th of May, 2018.
Several dermatologists from different countries including Hungary arrived to participate the training. The topic of the training was psoriasis focusing on the biological treatment. During the forenoon, participants listened lectures about the pathogenesis, genetic background, adult and childhood forms and histological diagnosis of the disease.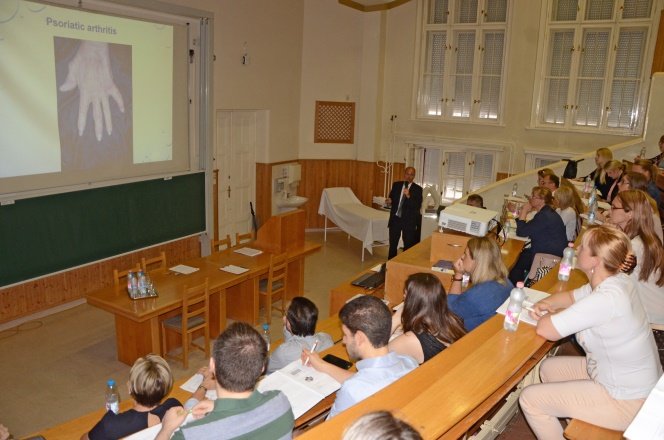 Numerous lectures concerned about the systemic treatments of psoriasis and the aspects of choosing the appropriate therapy. Types and effects of the biological treatments, the major breakthrough in the past decades, were interpreted in details beside immunosuppressive drugs used from decades.
Therapies under special conditions (e.g. during pregnancy) were discussed on several lectures. Drugs safety, suggested screening and check-up examinations was also reviewed.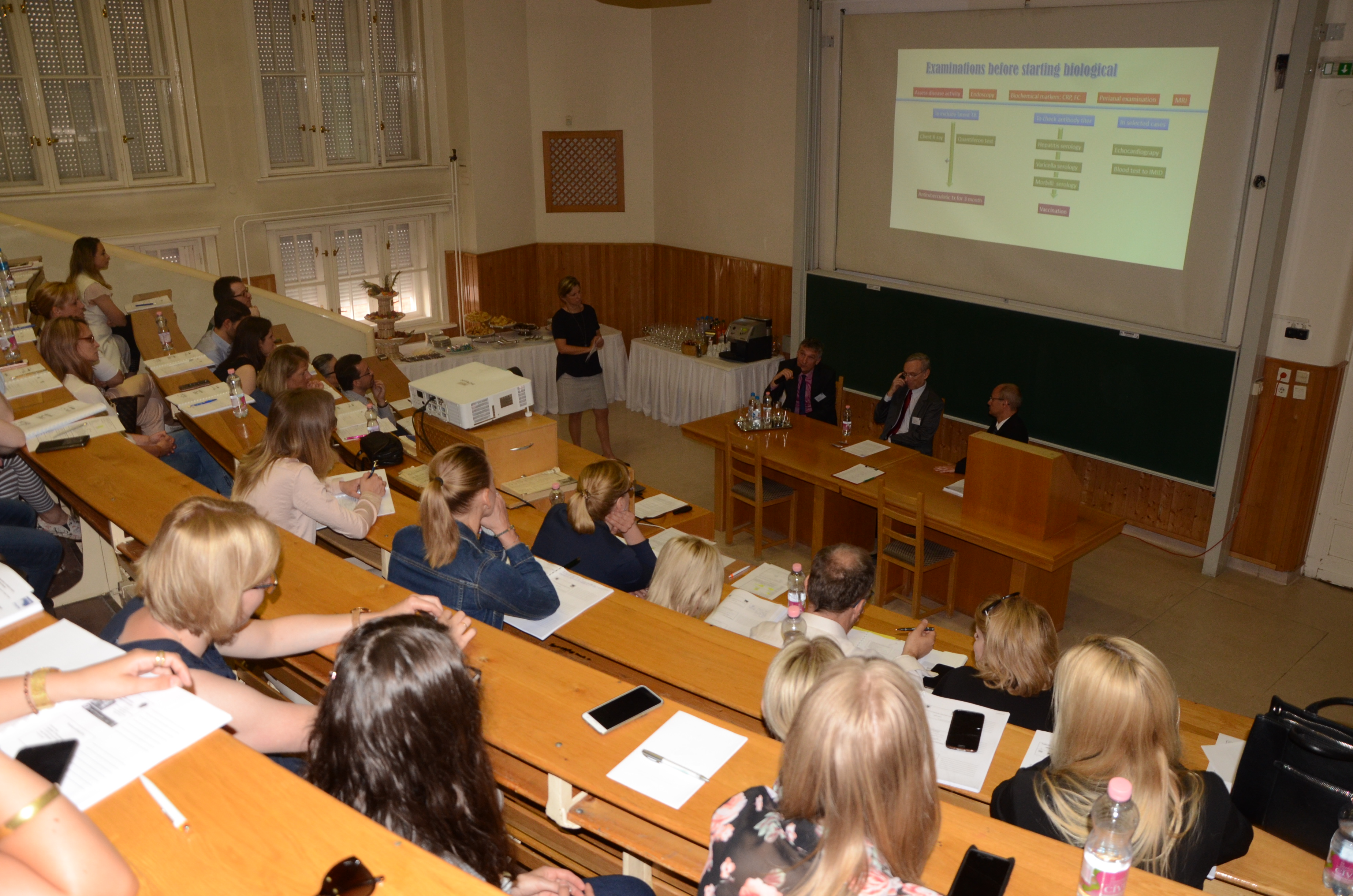 An interdisciplinary round table discussion was conducted on Friday forenoon, where the experts of the topic - Prof. Tamás Molnár (gastroenterologist), Prof. László Kovács (rheumatologist), Prof. Lajos Kemény (dermatologist) - shared their experience.
Hands-on training sessions were held on the afternoons, where skin and joint involvement of psoriasis could be studied by the participants. Clinical manifestations of psoriatic arthritis and methods used during physical examination were demonstrated on patients by Sonja Dulic (rheumatologist). Several challenging cases treated at our clinic were discussed and two Croatian colleagues also presented interesting cases. During the training programme, various questions occurring in everyday practice were considered. Research activity at our Department was also introduced to the foreign colleagues.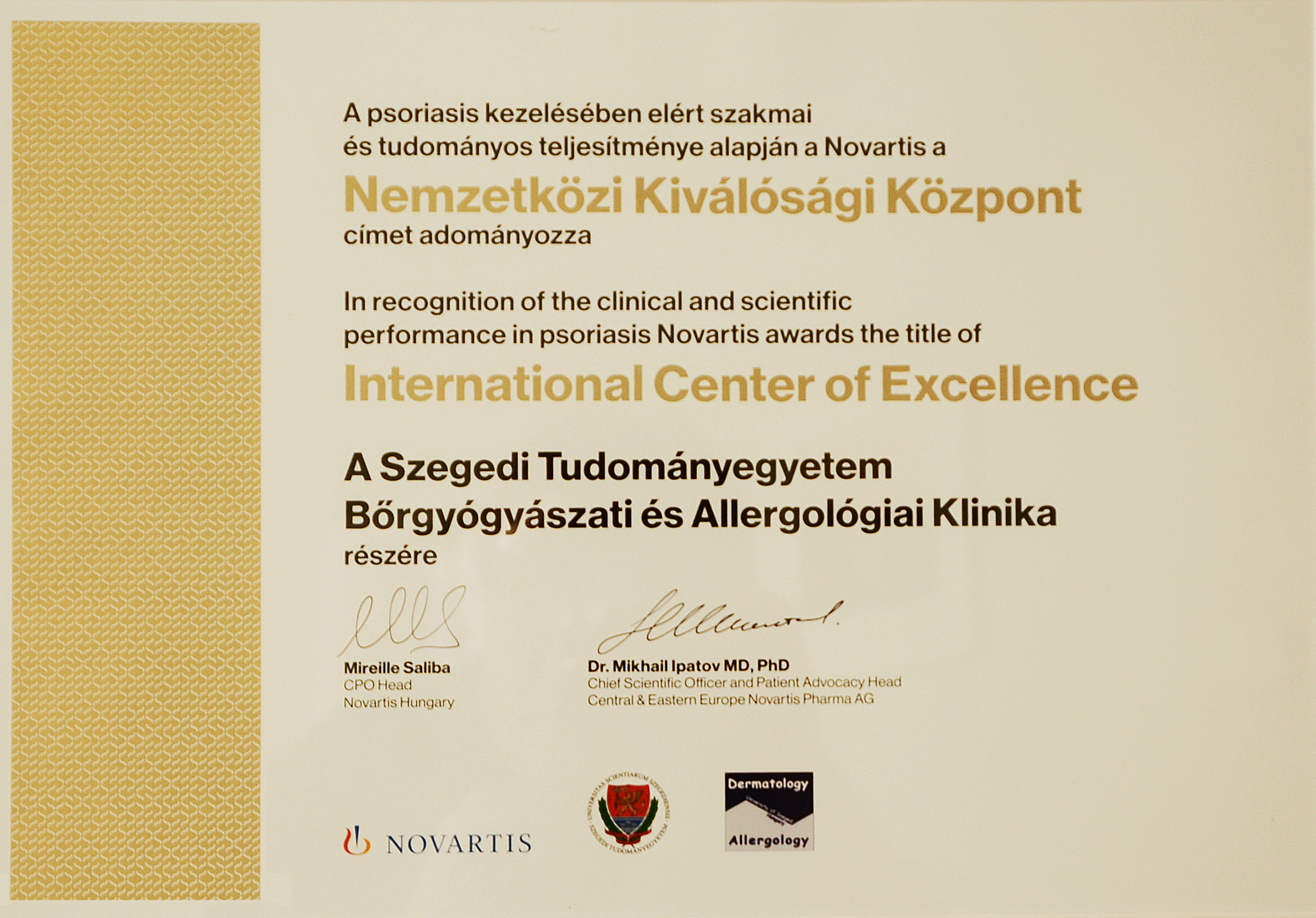 Psoriasis Preceptorship Programme was sponsored by Novartis. International Centre of Excellence title was admired to the Department of Dermatology and Allergology for the professional and scientific achievements in treating psoriasis.
Lectures were held from our institute by Prof. Lajos Kemény, Prof. Zsuzsanna Bata-Csörgő, Eszter Baltás M.D., Róbert Kui M.D., Erika Varga M.D., Réka Kovács M.D., Ekaterine Paschali M.D., Zsanett Csoma M.D. Andrea Gyimesi, Margit Sándorfi, Tiborné Tóth and Zsolt Hunyadi were attending in the organization of the event. Leading organizers were Andrea Gelencsér M.D. from Novartis and Eszter Baltás M.D. from the Department of Dermatology and Allergology.